Welcome to ENISHIYA!!!
"Enishiya" is the shop where you can experience Japanese culture through kimonos and incenses.
Nara-machi, where Enishiya is located, has an elegant townscape. The Gangoji Temple which is registered as a world heritage is nearby and it is an ideal location to take a walk in kimono as there are plenty of stylish cafes and knick-knack shops in the area.
It is also conveniently located for the Todaiji Temple, the Nara Park and the Kasuga-taisha Shrine, all are located within easy walking distance.
The kimonos we stock are mainly vintage kimonos and obi sash belts, their charms go beyond the time or period, you would be enchanted by the kimonos we provide.
Our kimonos are mostly made of pure silk.
You can choose your own style, from traditional to retro & modern chic styles, please enjoy dressing up in your unique kimono style.
For the incense making workshop, you can create your own blend using the natural aromatic base materials.
The incenses are said to have been introduced to Japan 1500 years ago, they were used as part of the Buddhist service and arrived together with the Buddhist scriptures.
The aromatic base materials used for incense preparation are mostly natural roots and barks that are used also as medicinal herbs.
The incenses made of natural base materials have a smell which is calming and is somewhat able to evoke nostalgia.
Why don't you add a gentle fragrance to your life from now?
If you could have an enjoyable time through our kimonos or incenses, we would be most pleased.
We all look forward to meeting you in our shop.
Manager at Enishiya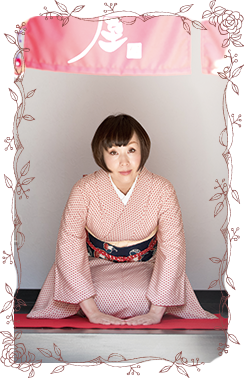 Hello, I am Kyoko Kohama. I am the shop manager of "Enishiya".
I sincerely thank you for visiting our "Enishiya" homepage on this occasion.
I would like to make a brief introduction about myself.
I have been in the beauty business for a long time.
After having had experience working as a hair stylist in Japan, I went to London.
While working as a hair stylist in London, I had met people from many different cultural backgrounds, and the extent of diversity I got to know was hugely exciting.
Through those experiences, I had begun to have a desire to explore many more countries and cultures, I was burning with curiosity and it led me to travel to over 20 countries.
Apart from London I had also lived in Melbourne, Australia and Vancouver, Canada.
After returning to Japan, I had mostly worked in the bridal business and worked for hotels in the capital, Tokyo and Kamakura in Kanagawa prefecture.
Through my work, I got to handle kimonos often and had opportunities to learn about Japanese culture and I began to pay frequent visits to historic places in Japan. I also discovered incenses, I, myself, started to think that I would like to provide occasions to get to know Japanese culture for many others.
Thankfully, with a good turn of fortune, now my dream has come true,
I am able to manage "Enishiya" in Nara.
I would do my best to serve you well, so that after visiting "Enishiya" you would go back filled with a warm feeling and have a smile on your face.
I am wholeheartedly looking forward to your visit.
At Enishiya, for sightseeing or strolling in Nara, we have 7 kimono rental plans for you, so that you will be able to feel at ease to rent and enjoy dressing in kimono.
Do take this opportunity and enjoy your own unique kimono style to go with the ancient capital city of Nara.
You can choose the style to suit you.
※The duration of kimono rental is from 9:30 am to 5:30 pm.
◎You must bring an ID, such as a passport!!
◎As we have other customers booked after you, please be punctual and arrive on time for your appointment.
If you are late we may not be able to provide you with a kimono, so please bear that in mind.
Manyo Plan – Casual & Easy
¥4,950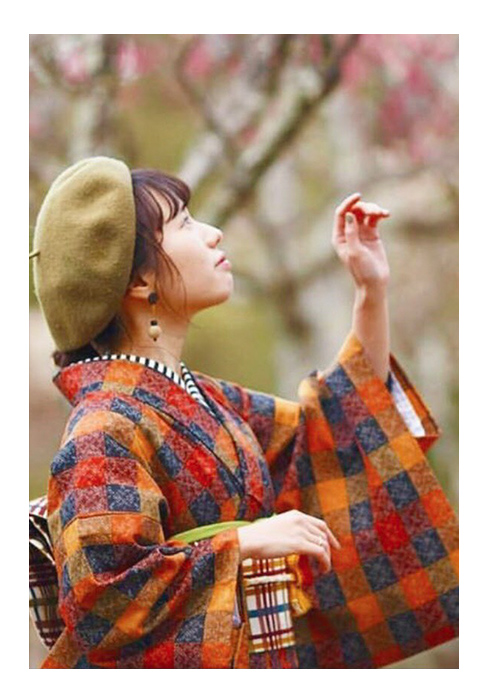 Choose a kimono out of the selection of casual kimonos and enjoy an easy-to-wear kimono.
It is recommended for those wearing a kimono for the first time or wishing to enjoy wearing a kimono casually.
※Hanhaba obi, half-width sash belt as standard (+500 yen upgrade to Otaiko obi, full-width sash belt).
Casual Kimomo
+
Obi(hoso obi)
+
Tabi
+
Nagajuban
+
Hadajuban
+
Bag
+
Sandal
Yamato nadeshiko – Vintage & Retro
¥6,050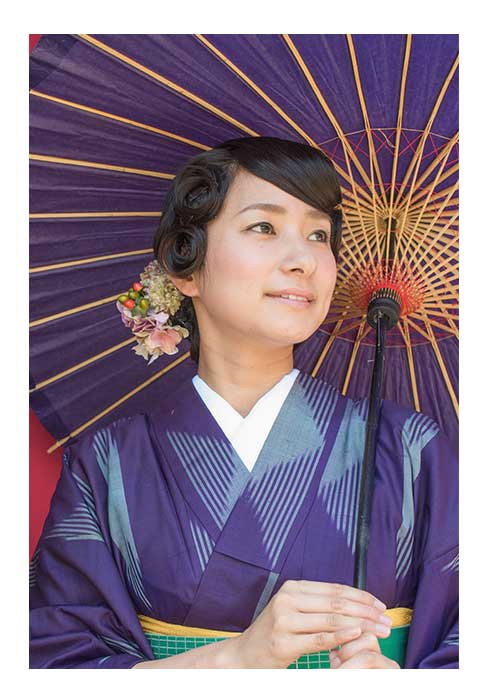 In this plan, you can choose from our vintage kimonos.
You can enjoy retro styling such as, Taisyo romantic style (1912-1925), Showa modern style (1926-1989).
It is recommended for exploring Nara-machi or girls travelling together.
※Kimono comes with Otaiko obi (full-width sash belt).
Kimomo
+
Obi(otaiko obi)
+
Tabi
+
Nagajuban
+
Hadajuban
+
Bag
+
Sandal
Kimono Plan for Male Customers
¥4,950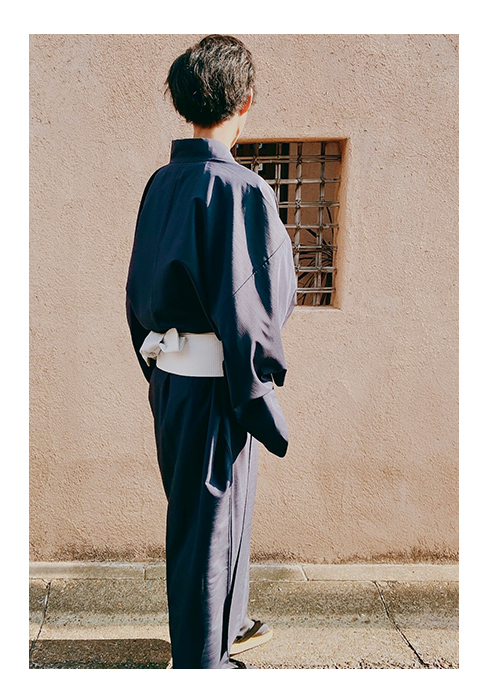 This plan is created for male customers, we wish gentlemen to enjoy wearing kimonos, too.
The townscape of Nara with many temples and shrines, the men in kimonos look absolutely stunning.
※Male customers, please bring a deep v-neck T-shirt with you.
※We also have male yukatas – light & casual kimonos (during summer only).
Men's kimono
+
Obi
+
Bag
+
Tabi
+
Sandal
Eniyui Plan for Couples
¥10,450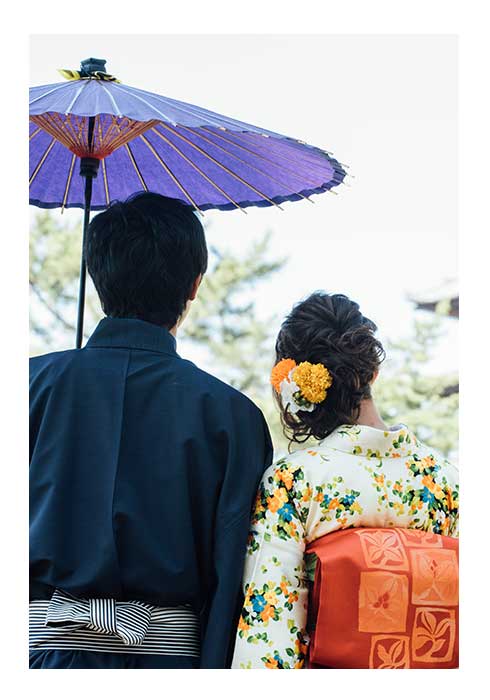 It is an ideal plan for couples going out.
How about creating a good memory from experiencing our kimono with someone you love?
You can choose a kimono you like from our selection.
※No Enmusubi plan for yukata.
※Male customers, please bring a deep v-neck T-shirt with you.
《for female》
Kimomo
+
Obi(otaiko obi)
+
Tabi
+
Nagajuban
+
Hadajuban
+
Bag
+
Sandal
《for men》
Men's kimono
+
Obi
+
Bag
+
Tabi
+
Sandal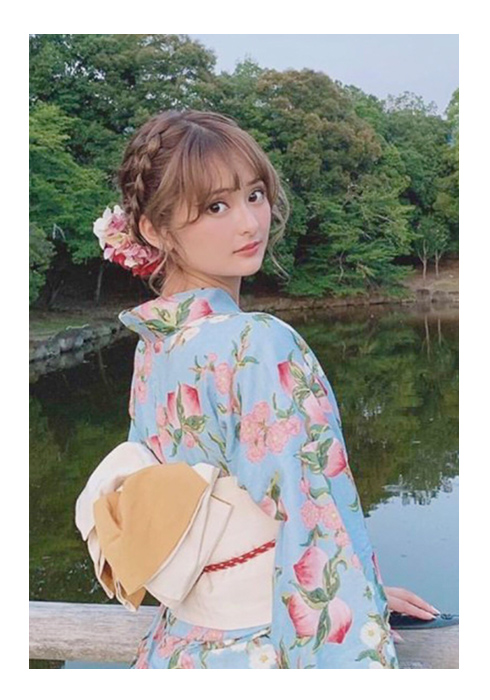 ※summer season only!!
Yukata + Obi + Bag + Sandal
※The rental package does not include a inner for men.Please take it that solid colour or you can buy one.
※for an extra 500yen.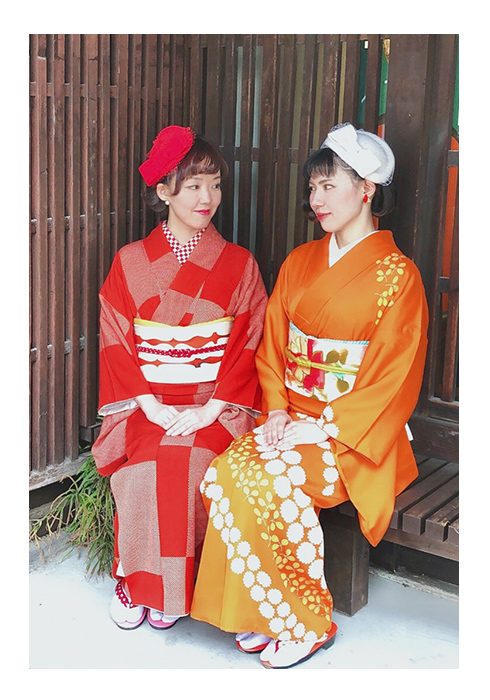 We have higher quality kimonos.
It is recommended for those who love wearing kimonos.
※Kimono comes with Otaiko obi (full-width sash belt).
Plemium Kimomo
+
Obi(otaiko obi)
+
Tabi
+
Nagajuban
+
Hadajuban
+
Bag
+
Sandal
hair set
Casual hair set ¥1,650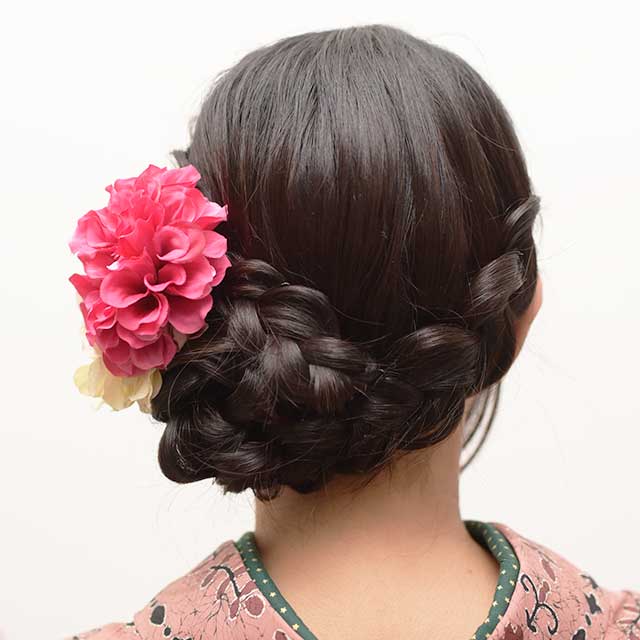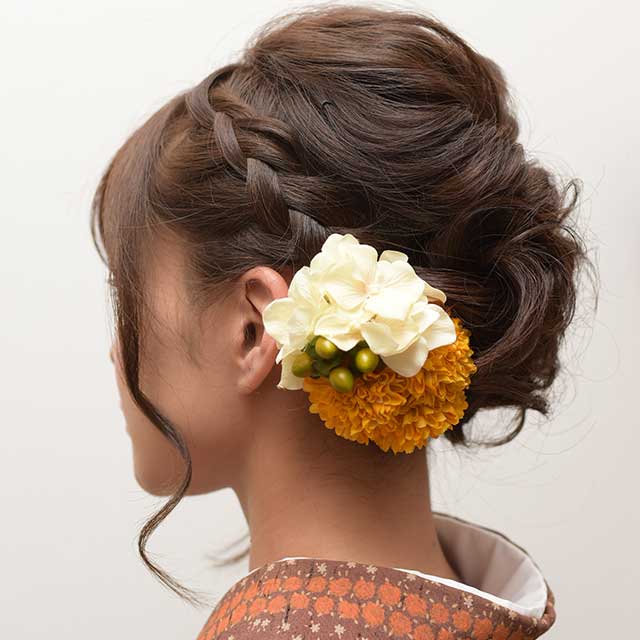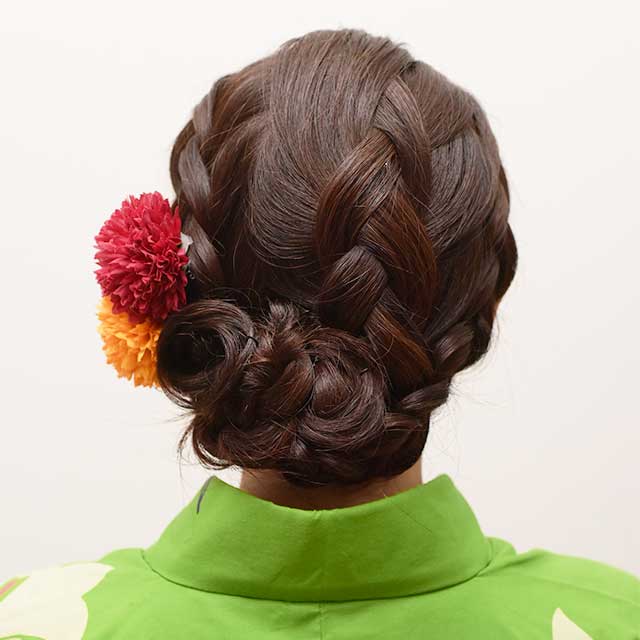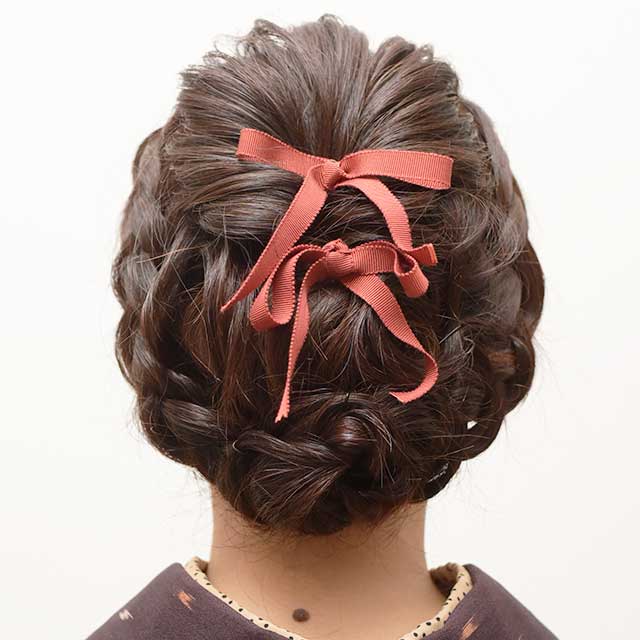 Procedure of the rental kimono
※Until return after coming.
1.Reservation

2.Please come our shop

3.Choose a kimono

4.Dress you up in turns

5.Hair set

6.Payment

7.Go to sightseen

8.Return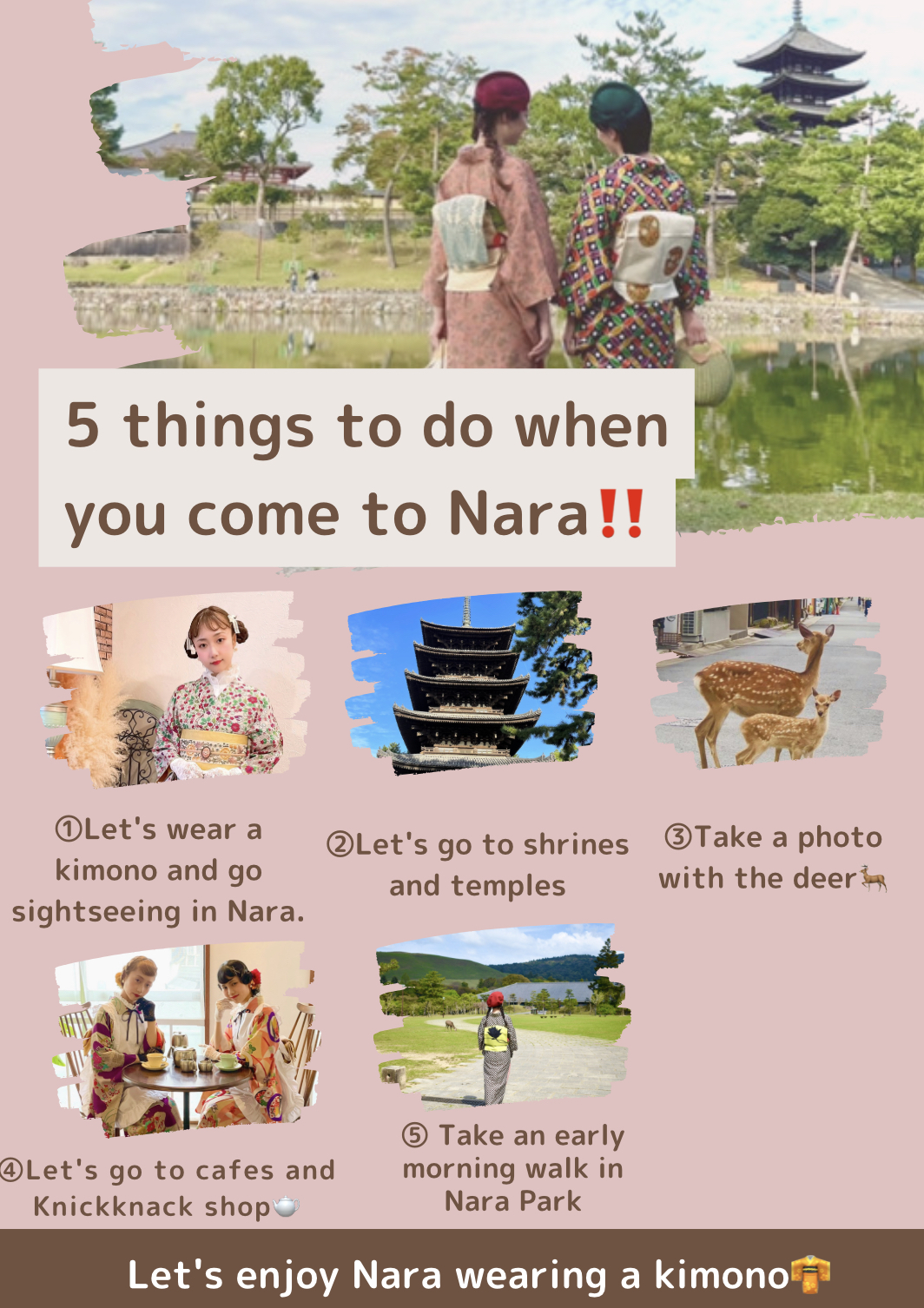 FAQ
Reservation
How do I book the kimono session?
You can book by phone, email (Japanese or English), or booking form.
For booking by email or booking form, please make a booking at least 2 days in advance.
Can I rent a kimono without an appointment?
It may be possible to rent a kimono on the day without an appointment. However, customers with prior appointments are served first. Depending on the booking status, we may ask you to wait or we may not be able to accommodate you at all.
We appreciate your understanding in those circumstances.
We strongly recommend you to book beforehand to avoid disappointment.
Can I change the date & time, kimono plans or numbers of people?
It is possible. Please contact us as soon as possible.
Can I cancel the plan?
You can cancel the plan.
Please be aware that there is a cancellation fee for the plan cancelled less than 8 days' notice.※Cancelled on the day: 100%
※Cancelled the day before: 80%
※Cancelled less than 4 days' notice: 50%
※Cancelled less than 8 days' notice: 30%
Renting Service
Is there anything I need to bring with me?
For female customers, we have everything, so no need to bring anything.
For male customers, please bring a deep v-neck T-shirt with you.
Do you have any hair accessories to go with the kimono?
Yes, we do. We have specially selected hair accessories.
In the cold weather what can I wear with the kimono?
We have shawls or Haori coats (with a rental fee) to go over the kimono.
You can also wear your own deep v-neck thermal underwear, leggings or having a disposable body warmer is also recommended.
Can I leave my own clothes or luggage at Enishiya?
We will keep your clothes or suitcases at our shop.
We cannot look after any expensive items or your valuables.
Please take all your valuables with you.
If you are returning the kimono on the same day or the next day, we will keep your clothes or suitcases until you come back to the shop to return the kimono.
Are there any staff who speak English?
We have staff who speak English at an everyday conversation level, please feel at ease and come to our shop.
Can I rent a kimono when it is raining or in bad weather?
It is possible to rent a kimono when raining lightly, however, in case of it is raining heavily or raining with wind, or with heavy snow, typhoon, or any other natural disasters, we may decline the rental service.
We appreciate your understanding in those circumstances.
Wearing Kimono
I have never put on a kimono, would I be able to wear it?
Please feel at ease.
Experienced female staff will take care of you and will do a proper and beautiful fitting of your chosen kimono.
How long will it take to fit a kimono and have my hair styled?
It will take about 40 minutes.
Are there any hair accessories to go with the kimono?
Yes, there are.
Would you be able to style my hair?
Yes, we would.
Hair Set
I have short hair. Can you style my hair to go with the kimono?
As long as you have a certain length, we can style your hair. Please discuss it with us.
At what point do I pay for the kimono rental?
After coming to our shop and getting changed and fitted with a kimono – that is the time you pay the rental fee before you go off in our kimono.
Finish Renting
By what time do I need to come back to your shop?
Please return to the shop by 17:30.
I am expecting. Can I rent a kimono or have a kimono fitted?
We would not be able to serve expecting mothers at all, we are very sorry.
We cannot be held responsible for any problems caused, in case of non-disclosure of your pregnancy and we appreciate your understanding.
Others
What happens if I get your kimono soiled?
[Soiling]
For light soiling, we would not ask for a cleaning fee. However, a cleaning fee will incur for irreversible soiling.[Damage]
Cigarette burns, torn fabric except on the seam, perforated fabric, etc.
Compensation for damages: 5000 yen.
Residual odours on the kimono, such as a perfume odour.
Odour removal: around 5000 yen.
※For removing odours from pure silk fabric will be 10000 yen.[Lost articles]
For equipment, small items, damaged or lost, a fee will be charged.
Zori sandals, shawls: 1000 yen.
Haori cords: 500 yen.
Hair accessories: 500 yen.
Shop Information
Address
Casa Yakushido 103, 13 Yakushido, Nara, Nara, 630-8321
Open
9:30~18:00
Holiday
Irregular Holiday
TEL
0742-55-3971
English is available.
Access

Train


15 min. from Kintetsu Nara sta.
12 min. from JR Kyobate sta.
20 min. from JR Nara sta.


Bus


4 min. from Fukuchiincho.
4 min. from Tanakamachi.
Map
Reservation Form
Check the schedule before you make a reservation.
◯ is available.
X is not available.
※please make sure your email address. if it is wrong email address, you can not confirm the reservation‼️
※Reservation isn't confirm until you receive a reservation confirm mail.